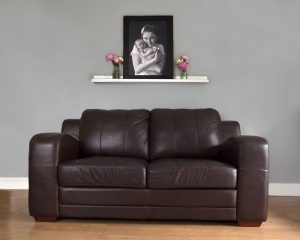 As a mobile newborn and family photographer covering all of Dublin and the commuter belt, I see so many different homes. And nothing makes me happier than a wall covered in portraits. Research has shown that printed portraits on the wall enhance a child's self-esteem. And it's easy to see why- you are showing your child, in a very visible way, that they matter, that they are important and that they are so loved.
Nothing makes me happier than hearing from a previous client. Especially when they say the magic words "We need to finish the wall". Look at the beautiful wall Lorraine has created in her home of her gorgeous family. After doing baby's newborn session a year ago, we have just done their cake smash. It was so much fun and we have captured more happy memories forever. It makes me so happy to see my work on my client's walls. Photographs are meant to be displayed not hidden on a cd or a USB.
I would love to see any more walls from previous clients if they would like to share their pictures in the comments. Feel free to contact me on siobhain@tickletoes.ie or 087  7552092 to plan your very own session to fill your home with magical portraits of those you love the most.